---

1967- I moved to the United States at the age of 18 from Montréal, Québec, Canada in January 1967, with a 9 month old baby girl.

My first husband (André Mercier) got an electrical lineman job in Ohio. He went to the States a few months ahead of me. Once he was settled, he sent me some money so I could join him there.

We first arrived in Canton, Ohio. on New Year's Day, 1967.

I had a big winter coat on and had the baby all bundled up. When we got off the plane, the temperature was 60. I figured it was always warm in Ohio, (today I know better).

Andre, after drinking too much, forgot we were coming and had moved. It took me a long time to find him. I only knew a few words of english back then, which didn't help in finding him. After I finally found him, he informed me he had lost his job. We had to move.

This time to Milwaukee, Wisconsin. All three of us rode the Greyhound bus there. Of course, we knew nobody there except the French Canadian Supervisor of my husband's new job. He helped us find an apartment in a building with at least a dozen other Canadians.

His drinking got worse of course with all his new buddies to party with. The more he drank, the more I got abused. Chantal was not even a year old and she knew not to get too close to his feet, because she'd get kicked. Her and I often had to go in the bedroom to get away from him. I would push a big dresser against the door so he couldn't get in. After a while, he'd give up trying. We lived there for a year and a half or so.

He and a few canadians decided to go to New-Jersey. It was now summer of 1968. We moved to a small town called Somerville, New-Jersey. We spent about 3-4 months there, then he got transferred again.

Back to Milwaukee, Wisconsin. After another 4-5 months, he got fired again for showing up drunk at work.

Another small town, Dixon, Illinois. André came home late one night, so drunk that he fell in Chantal's 20 inches tall swimming pool and couldn't get up. Our Landlady thaught me how to drive and I got my first driver's license. I really liked it there but we only stayed for a few months.

1969- I was 8 months pregnant when he got transferred again.

1969- Waukegan Illinois. I have good and bad memories in that town. A couple of weeks after moving, André hurt his back at work and was hospitalized for a couple of weeks. He had to have surgery and was not able to work for at least 6 months. Boy did I find out what welfare was all about. We needed medical insurance for him and for me. My baby was due in a few weeks and I hadn't even seen a doctor yet.

Well right on time, August 25th, 1969, my son was born (Jacques Alain Mercier). We stayed in Waukegan for the duration of his disability.
1970- He accepted a lump sum from the company's insurance and around March of 1970, we moved again.

Back to Milwaukee, Wisconsin. After a month or so, he and a buddy of his got fired. They decided to go to Michigan and leave us in Milwaukee until they found places for us to live.

1970- After he was in Michigan for a few weeks, he called me and asked me to go to the bank and borrow some money, he'd been robbed and couldn't pay for his hotel room. I got a loan and wired him some money.

2-3 weeks later, he called me again and told me to pack up, rent a U-Haul trailer and load the kids up in the old Station Wagon and join him in Detroit. What a trip, the old car could barely make it up a small hill. But we made it.

That was the shortest stay of my life. Even at a doctor's office, I stay longer.
As soon as we got there and as exhausted as the kids and I were, he told me not to unpack, we were going to Toledo, Ohio.
Last time edited: September 17, 2000
---


Read My Guestbook! | Sign My Guestbook!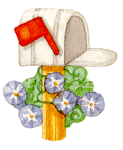 ---
NEXT: MY NEW LIFE IN OHIO
MAIN~INDEX