---
CHAPTER 11
BECOMING A U.S. CITIZEN.
---
Midi: National Anthem


Ultimate Midi Files Collection

---
---

1997-In April 1997, I received a letter from Social Security stating that as of June 1997, if I didn't have 10 years of work in the United States, that I would lose my SSI or be deported unless I applied for my US Citizenship or if my late husband had the 10 years of work.
I went to the Social Security office. They checked his records and he DID have the 10 years of work in this country so I was able to keep my SSI.($494./month)

1997-I had been receiving Medicaid and $126./month food stamps. In May, I was sent an appointment to review my case at the County Welfare Department. I was told that the Welfare had a different rule than the Social Security office and that I had to have my own 10 years of work here, so I was taken off the food stamps etc. That left me no choice but to apply for US Citizenship. I couldn't live on $494./month and pay for my food too. I went to Social Services and was sent to a County Pantry.(A place where poor people was given a couple bags of groceries.) From June "97 through March "98 I lived on "pantry" food or Macaroni and cheese. I gained weight instead of losing. But I survived.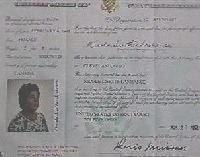 March 1998-I was sworn in as a United States Citizen on March 27, 1998. As soon as I got my papers, I went to reapply for my Food Stamps and Medicaid. Of course I was approved. Life became a bit easier to deal with.
Last Time Edited: December 28, 2000
---



---
NEXT: IT'S A VICIOUS CIRCLE
MAIN~PAGE